Advanced trainings and technical know-how are fundamental prerequisites for any entrepreneurial success. Day after day, we at SCHLEICH create solutions that are well thought out in every detail. We master demanding electrical engineering challenges and constantly expand our expertise.
We enjoy sharing our knowledge.
You can benefit from our expertise and gain genuine know-how advantages. We offer you goal-oriented skill sets for your scope of tasks in testing and inspection applications. Free of charge.
We are happy to show you the options for a training, seminar or talk for your company. Simply use the contact form at the bottom of this page.
Transfer knowledge – apply knowledge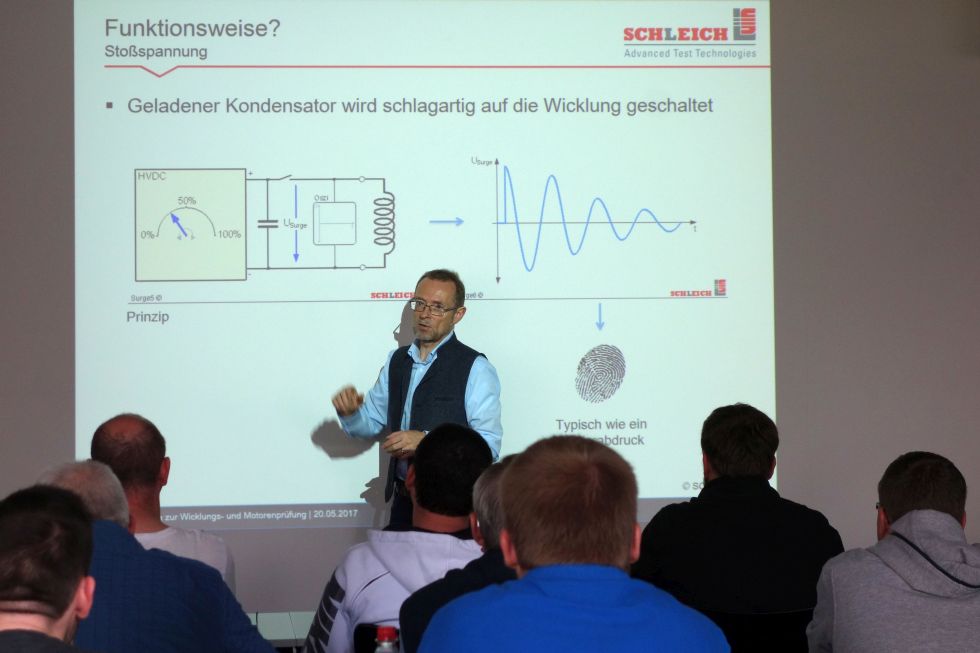 Our trainings are held by qualified instructors at your facilities, online as webinars or at SCHLEICH in Hemer.
In addition to theoretical principles, emphasis is also placed on practical application. We demonstrate various test tasks and apllicable solutions directly with our test equipment.
Every company has individual training needs for their employees. Are you interested in examining your individual requirements together with us? We would be pleased to draw up a proposal for your training measures.
Example topics:
partial discharge tests
surge voltage tests
VDE safety tests
luminaire testing with interfaces such as DALI, …
how to test automotive drives
tests and solutions for automotive batteries
working efficiently with the MotorAnalyzer 2
networking of test equipment
complex statistical evaluations of test results
…
University lectures, talks at professional associations, trade exhibitions …
We also regularly give lectures on various topics in the field of test engineering at specialised events.
Please let us know the date of the lecture and your desired topic. We will be happy to suggest a presentation or discussion.
e.g.: Colloquium on small machines at Technische Universität Ilmenau: